Enriching Lives through Quality Choices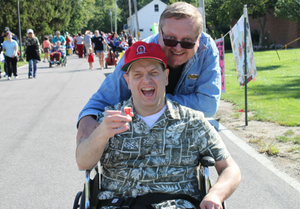 At Luther Home of Mercy (LHM), we believe that support begins with the individual. We work with the people in our care to learn their hopes, goals and dreams for the future. These dreams may include making new friends at one of our five day program centers, obtaining meaningful community employment or planning a vacation of a lifetime. No matter how large or small the goal may seem, our team of skilled and dedicated care providers walks alongside each individual on their journey to live the best life possible.
Recognizing that the health and desires of the people entrusted to our care changes throughout life's journey, Luther Home of Mercy provides a full range of supports tailored to meet people where they are today and continue to serve them well into the future. Located in Williston, Ohio, our main campus is a 97 bed intermediate care facility that is licensed by the Ohio Department of Developmental Disabilities. Here, the people we serve each have their own bedroom and live in eight separate residential "cottages". Our main campus offers a quiet country atmosphere with medical care, therapies, activities, a gymnasium and spacious outdoor recreation facilities. In addition, many individuals served by Luther Home of Mercy choose to live in their own home receiving in-home supports or in one of the 20 community homes managed by LHM Properties. We believe that where to call home is one of life's most important choices and are committed to helping individuals choose the best environment to meet their personal needs and desires.
Compassionate Faith Based Care
The belief that each life has value is the foundation of the ministry of Luther Home of Mercy.  This guiding principle is not only true of those we serve, but our over 400 staff members, volunteers and community partners.  Each member of the LHM family has a unique gift that they are able to share with others.  Working together, we are able to develop meaningful partnerships, provide quality compassionate care and give a voice to the needs of the people we serve.
Luther Home of Mercy was established as a Christian ministry and the services we provide are deeply rooted in this rich tradition.  Our residents, clients, staff and volunteers come from a variety of different faith backgrounds.  We strive to nurture the whole person and help individuals express their spiritual needs and desires. 
Faith is at the core of the work we do.  Luther Home of Mercy is a Recognized Service Organization (RSO) by the Lutheran Church - Missouri Synod and has a longstanding partnership with the Evangelical Lutheran Church in America.  Additionally, we are a member of the Lutheran Services in America and Lutheran Services in America -Disability Network. We see ourselves as not just care providers, but advocates who are called to help each person realize their full potential.