More than Just a Paycheck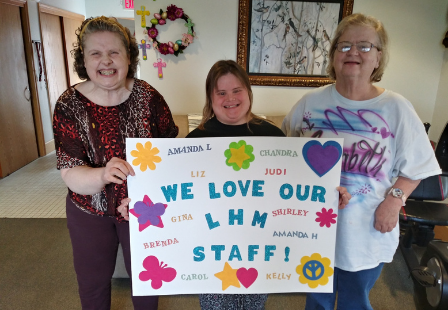 Our care providers will tell you: there's no greater feeling than contributing to the personal growth of others. Often, strong bonds are formed through relationships built on mutual respect and trust. We're always on the lookout for hard-working people who are passionate about helping others.
In addition to competitive compensation, Luther Home offers a benefits package that includes health, dental, and vision insurance, paid time off and premium pay for holidays worked. We are an equal opportunity employer and employment practices are done on the basis of appropriate qualifications and work performance without regard to race, religion, color, sex, national origin and disability. On our main campus, the direct care staff, food service, maintenance and housekeeping employees are members of the Service Employees International Union (SEIU)1199.
We are currently seeking the support of Direct Care Staff who offer front line care and Licensed Practical Nurses (LPNs) on our main campus in Williston, OH. We are also hiring Supported Living Providers to work with individuals who live in a community setting. In addition, we periodically have a need for additional staffing in our housekeeping, food service, day programs, maintenance, managers and administrative departments. All applicants must be a minimum of 18 years of age, have a high school diploma or GED and pass a drug and background check.
We encourage you to apply today following the application link below or you may email your resume to the Human Resources Department at careers@lutherhome.org.
Frequently Asked Questions:
Prior to completing the application process, please refer to our Frequently Asked Questions page HERE for additional information.
Application
Click HERE to complete our online application.
Main Campus Employment Opportunities:
Click HERE to view openings at our main campus in Williston, Ohio. 
Community Ministries Employment Opportunities:
Click HERE to view openings in our community based ministries. 
Non Discrimination Statement
LHM will adhere to a policy of non-discrimination in employment as stated below:
The agency prohibits discrimination on the basis of age, race, color, disability, religion, sex, or national origin with regard to hiring assignment, promotion or other conditions of staff employment. 
The agency has a written plan for positive action to achieve equal employment opportunity for all persons in the filling of its staff positions including elements such as: contacts with various organizations in the community including minority group news media when advertising in the general media is used to fill jobs; self-identification as an equal employment opportunity employer in recruitment advertisements; and the use of employment agencies which do not discriminate on the basis of age, race, color, disability, religion, sex, or national origin.
There is no discrimination on the basis of age, race color, disability, sex, or national origin in membership on the agency's governing body.