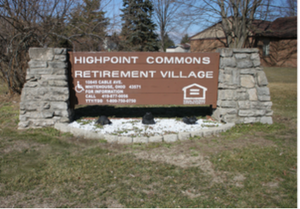 Find your next home at highpoint commons
Located in Whitehouse, Ohio, Highpoint Commons was originally constructed in 1980 with a loan from the Department of Agriculture.  Today Luther Home of Mercy owns and manages this 24 unit independent living community designed for low income seniors and those with disabilities.
Nestled in a quiet country setting, Highpoint Commons offers the traditional comforts of home in your own private one or two bedroom apartment.  Each apartment features single story construction with a minimum of steps, a fully equipped kitchen, individually controlled heating, and an outdoor gardening area.  Laundry facilities are available on-site.
Shopping, banking, dining and health care providers are conveniently located nearby.
We understand that each individual is unique and needs can change over time.  If needed, residents are welcome to receive services from any outside health care provider of their choice.  
To qualify all tenants must:
Be age 62 or older or age 18 and have a verifiable disability
Meet certain income limits
All prospective tenants are encouraged to file an application.  To learn more about Highpoint Commons, please contact the property manager at 419-877-0056 or email: highpointcommons@att.net