Live in the Heart of Your Community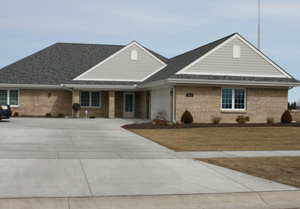 Many of the people who are served by Luther Home of Mercy desire to live in the heart of their communities with easy access to local business and amenities. For individuals who prefer neighborhood living, LHM offers 20 homes located in Lucas, Ottawa and Wood counties. Each home offers private bedrooms, accessible kitchens and bathrooms and spacious great rooms. Most homes are occupied by 3-4 tenants who live together in a family-like environment. In home supports are provided as needed to meet the personal needs and desires of tenants. Some individuals request support only a few hours each week, while others require 24 hour per day assistance. Services often include homemaker and personal care, transportation, medical monitoring and assistance, behavior supports, recreation and leisure activities, daily living skill development and financial monitoring. Individuals who live in one of Luther Home of Mercy's group homes may select Luther Home, or any other provider to meet their support needs.
For more information about Luther Home of Mercy's community living options, please contact Sue Tate: state@lutherhome.org, 419-972-4346.