Luther Home Welcomes New Vice President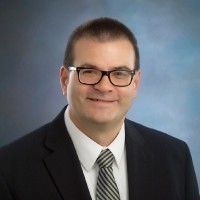 Since mid-2017, the position of Vice President here at Luther Home of Mercy has been vacant.  We have delayed filling this position for a number of reasons, but are now ready to have someone serve in this capacity.  We are pleased to let you know that Steve Tucker has joined LHM as Vice President.  Steve has nearly 20 years of experience in the developmental disabilities field, in the areas of business, compliance, Medicaid services, operations, and management. Prior to entering the field of developmental disabilities, Steve spent 14 years in the private sector as an Accountant and as a practicing Certified Public Accountant.
                Steve received his Bachelor's Degree in Accountancy from the University of Akron and a Master's Degree in Public Administration from Cleveland State University. In addition, Steve holds a Superintendent license issued by the Ohio Department of Developmental Disabilities and is a Certified Public Accountant.
                "The death of a friend's daughter and, shortly thereafter, the events of 9/11 made me question my career path at the time. I fell into the developmental disabilities field quite by accident. My wife worked as a developmental specialist with the Lorain County Board of Developmental Disabilities and a position, in the business office, became available. Without the slightest idea of what a Medicaid waiver was I was hired. I served as the Medicaid Services Manager/Assistant Director of Business before becoming the Director of Operations at the Geauga County Board of Developmental Disabilities. In 2017, I became Superintendent of the Henry County Board of Developmental Disabilities which had the added benefit of allowing me to be closer to family in the Toledo area.
                "I enjoy history and I find the history of Luther Home of Mercy intriguing. We tend to think things pretty much stay the same but when we look back everything is constantly evolving. That's where I find my passion, in working to be, and do, better. I enjoy the challenge to be more efficient, learned from my experience in the private sector, while improving the outcome. In our field that outcome is improving people's lives."
                Steve along with his wife, Donna, live in Liberty Center. Steve and Donna have a son, Kurt and daughter-in-law, Jessica, who live in Holland, Ohio. When not working, Steve spends most of his time keeping up with his grandchildren, Karsyn, Kinsley, and Easton.