Lutheran Ministries of Mercy Director of Facilities
Lutheran Ministries of Mercy
Title: Director of Facilities
Reports to: President and CEO
Location: Filling Homes, Napoleon
FSLA Status: Salaried, Exempt
Job Summary:  This position is responsible providing overall leadership to Lutheran Ministries of Mercy affiliates in the area of facilities management.
Primary Responsibilities: 
·         Provides guidance to affiliates in the areas of building and grounds maintenance, cleaning and laundry operations, safety, procurement and contract management, security, space management, and utilities.
·         In conjunction with appropriate staff, identifies needs for capital improvements and repairs to facilities, operation systems, and grounds.
·         Works with designated personnel in planning special projects, provides field inspections of designated work.
·         Reviews and approves all capital expenditures exceeding establish threshold.
·         Provides oversight of regulatory requirements.
Qualifications: 
·         High School Diploma or GED. Post-secondary education is preferred.
·         Experience in maintenance and care of buildings and facilities, preferably relating to long-term care.
·         Ability to work with all levels of personnel including line, professional, contractors and third-party relationships in the accomplishment of operational goals.
·         Minimum of three years of progressive management experience in facilities management.
·         Demonstrates organizational skills, capable of planning, initiating, and leading to establish and accomplish goals and objectives.
·         Must have the ability to travel weekly to affiliate locations.
·         Must hold current Ohio Driver's License, possess a clean driving record.
Submit your resume to Lori Adams, Director of Human Resources, by Friday, May 6, 2022. Email: loriadams@fillinghome.org
Phone: 419-599-6916
Fax: 419.592.6596
Jump-start your career or a new career by serving/helping others!
We are accepting applications for both part-time & full-time positions for all three shifts.
The following positions are currently open at our main campus in Williston, Ohio.
Check back regularly to view the most up to date list of employment opportunities. To apply for an open position, please complete our on-line application HERE.
DIRECT CARE STAFF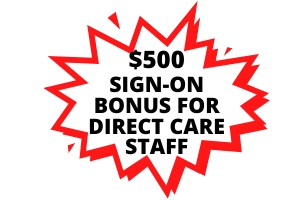 Direct Care Staff
This position is assisting adults with Intellectual and/or Developmental Disabilities with their daily needs at our Williston Ohio campus. Starting pay of $14.00/hour, an additional $2.00/hour for week-end shift. No experience necessary. Must obtain and maintain certification in CPR/First Aid within 60 days of hire. We are accepting applications for all shifts: 2nd shift (2pm-10pm)and 3rd shift (10pm-6am)
All applicants must be 18 years or older and have a HS Diploma or GED and be able to pass a BCI check, drug and alcohol/physical check, and lifting 40+ lbs.
All employees are eligible for benefits as follows: All breaks & lunchtime paid, PTO, holiday pay, 403B, health, dental, vision, life, disability insurance, counseling, a success coach help, etc.
EEO, interested applicants please complete the application on line.
NURSING - LPN positions
ATTENTION LPN's Including New Grads, if you are looking for something different in health care and are interested in a unique opportunity to use your skills in Long Term Care, then consider Luther Home of Mercy which is located in Williston, Ohio, (approximately 7 miles east of the former Woodville Mall area). We are a Christian based organization supported by numerous Lutheran programs. Our campus setting has eight (8) unique residential homes, serving individuals with intellectual and developmental disabilities.
We are currently hiring for 2nd (2:00p-12:00a) & 3rd (11:00p-7:00a) shifts, starting pay of $23.00/hr. and pay incentives within the 1st year up to $24.00/hr. with full benefits. Week-end differential of $2.00/hr. and shift differential for 2nd and 3rd shift nurses. Our campus has a fully operational Clinic, staffed by our own Physicians who have cared for our residents for a number of years, as well as a Therapy & Dietary Department that compliment our nursing services.
Unique duties include:
• Provide quality patient care, administer medications and treatments.
• Directly supervised by a Charge Nurse who oversees the campus, assisting with emergent and other patient issues.
• Works as a team member, with other supervisory staff, that supervise each residential building and the Direct Care staff assigned.
• Nursing Shift overlap to provide informative campus reports, communication and adequate time for shift change responsibilities.
• Paid lunch and break times.
All applicants must have a Nursing licenses and be able to pass a BCI check, drug/ alcohol/physical check, able to lift 40+ lbs. Interested applicants may apply online at www.lutherhome.org or at Luther Home of Mercy, 5810 N. Main St., Williston, OH 43468 or fax resume to 419-972-4347.
CAMPUS - DRIVER
CAMPUS DRIVER
Luther Home of Mercy, a residential facility for adults with developmental disabilities, located in Williston, is searching for part time drivers to transport our residents to their appointments and community events.
This position may include split shifts (morning & late afternoon). salary $12.00/hr. with a $0.40 increase after 90 days.
Minimum Qualifications include: 18 years or older, H.S. Diploma or GED, valid driver's licenses with less then four (4) point on record, and be able to pass a background check and drug test and a D.O.T physical. LHM will require CPR certified within 30 days of hire, DD experience preferred but not required.
Apply at 5810 N. Main St. Williston OH 43468, fax: 419-972-4347 or visit our website to complete an application on-line www.lutherhome.org.
PROGRAM MANAGER/QIDP
Luther Home of Mercy
An Intermediate Care Facility for adults with Intellectual and Developmental Disabilities in Williston Ohio is currently searching for:
Program Manager/QIDP (Qualified Intellectual Disability Professional)- full-time position
This position will be responsible for developing and monitoring service and Habilitation plans for persons with Intellectual and Developmental Disabilities and providing overall leadership to residential supervision and staff. Salary ranges from $20.75 to $21.75 per hour.
 To be eligible for this position, you must have a Bachelor's Degree in Special Education, Psychology, Social Services or related field and at least one-year experience working directly with persons with disabilities.  Supervisory experience preferred.
All applicants must be able to past a BCI check and drug and alcohol/physical check, lifting 40+ lbs. 
POSTED 11/18/21
FLOATING RESIDENTIAL SUPERVISOR
1st and 2nd Shift Floating Residential Supervisor
A residential facility for Individuals with Intellectual and Developmental Disabilities, located in Williston Ohio, is currently searching for: The Floating Residential Supervisor participates as a member of the Cottage Leadership and Individual Habilitation Plan Teams and Supervises the cottage Direct Care Staff to ensure that the residents' needs are met.
1st Shift (full time position – 40 hrs./wk.) includes weekend and holiday as needed.
2nd Shift (full time position – 40 hrs./wk.) includes weekend and holiday as needed.
ESSENTIAL RESPONSIBILITIES:
1. Under the direction of the Coordinator of Staffing Support, in conjunction with the QIDP, Cottage Nurse and IHP Team, leads the Direct Care Staff to ensure that resident's needs are met which include but are not limited to health and safety; personal hygiene; appropriate clothing and personal belongings; recreation; therapeutic leisure time, etc.
2. Fill in cottages when Supervision is off and assume their responsibilities.
3. Utilizes good judgement and decision making to assure that any resident need is fulfilled. Be responsive to changes in resident needs and crisis episodes and/or unusual incidents.
4. Participates in the resident's IHP, Behavior Management/psyche med meetings and special team meetings. (As needed)
5. Assists with off-campus trips and medical appointments as necessary.
6. Performs supervisory functions for assigned staff, including, but not limited to, personnel interviewing and selection, performance evaluations and corrective action as required.
7. Assist with new hire training, monitoring and ensuring new hires are prepared to work the floor.
8. Performs necessary reviews and checklists within the buildings to assure activities, programs and procedures are being carried out and appropriately monitored.
9. Maintain current knowledge in the field of DD and attend various in-services and workshops that are job related.
10. As a representative of LHM Management, enhance the public relations within both the facility and the community.
11. Commitment to Luther Home of Mercy's philosophy, organizational goals, policies and programs.
12. Assist Program and Operational Service leadership in other related duties as specified.
General Job duties includes: providing direct care to our residents, supervision and coordination of staff and the implementation of policies and procedures. Starting pay $16.25.
Applicants must meet the following qualifications: Associates degree and/or three years related work experience and/or training; the ability to work a flexible schedule, knowledge of: general budgeting skills, the ability to problem-solve and supervisory skills, must be able to pass CPR/FA. Be able to pass a drug test and BCI check.
POSTED 11/19/21
OPEN INTERVIEWS
ARE YOU READY TO START A NEW CAREER AFTER THE HOLIDAY'S?
INTERVIEWS WILL BE CONDUCTED SO PLEASE COME PREPARED AND BRING THE FOLLOWING WITH YOU:
• Information to Complete an Application
• A Copy of your High School Diploma or GED
• Your License or State I.D.
• Social Security Card
WHEN: Monday - Thursday (what day is best for you!)
TIME: 10:00am – 2:00pm
PLACE: Luther Home of Mercy/Administration Bldg.
5810 N. Main St.
Williston, Ohio 43468
Direct Care Staff: $500 SIGN-ON BONUS OPPORTUNITY
If you are looking for a new career in helping others, join Luther Home of Mercy's Direct Care Staff, assisting residents with their daily needs on our Williston, Ohio campus. Hiring for all three (3) shifts and weekends only; at $14.00/hr. All training provided; no experience necessary.
For more information, call 419-836-7741 and speak to a Human Resources Representative.