Jump-start your career or a new career by serving/helping others!
We are accepting applications for both part-time & full-time positions for all three shifts.
The following positions are currently open at our main campus in Williston, Ohio.
Check back regularly to view the most up to date list of employment opportunities. To apply for an open position, please complete our on-line application HERE.
DIRECT CARE STAFF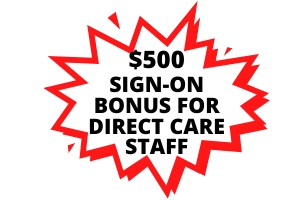 Direct Care Staff
This position is assisting adults with Intellectual and/or Developmental Disabilities with their daily needs at our Williston Ohio campus. Starting pay of $13.50/hour, an additional $2.00/hour for week-end shift. No experience necessary. Must obtain and maintain certification in CPR/First Aid within 60 days of hire. We are accepting applications for all shifts: 2nd shift (2pm-10pm)and 3rd shift (10pm-6am)
All applicants must be 18 years or older and have a HS Diploma or GED and be able to pass a BCI check, drug and alcohol/physical check, and lifting 40+ lbs.
All employees are eligible for benefits as follows: All breaks & lunchtime paid, PTO, holiday pay, 403B, health, dental, vision, life, disability insurance, counseling, a success coach help, etc.
EEO, interested applicants please complete the application on line.
NURSING - LPN positions
ATTENTION LPN's Including New Grads, if you are looking for something different in health care and are interested in a unique opportunity to use your skills in Long Term Care, then consider Luther Home of Mercy which is located in Williston, Ohio, (approximately 7 miles east of the former Woodville Mall area). We are a Christian based organization supported by numerous Lutheran programs. Our campus setting has eight (8) unique residential homes, serving individuals with intellectual and developmental disabilities.
We are currently hiring for 2nd (2:00p-12:00a) & 3rd (11:00p-7:00a) shifts, starting pay of $21.00/hr. and pay incentives within the 1st year up to $22.00/hr. with full benefits. Week-end differential of $2.00/hr. and shift differential for 2nd and 3rd shift nurses. Our campus has a fully operational Clinic, staffed by our own Physicians who have cared for our residents for a number of years, as well as a Therapy & Dietary Department that compliment our nursing services.
Unique duties include:
• Provide quality patient care, administer medications and treatments.
• Directly supervised by a Charge Nurse who oversees the campus, assisting with emergent and other patient issues.
• Works as a team member, with other supervisory staff, that supervise each residential building and the Direct Care staff assigned.
• Nursing Shift overlap to provide informative campus reports, communication and adequate time for shift change responsibilities.
• Paid lunch and break times.
All applicants must have a Nursing licenses and be able to pass a BCI check, drug/ alcohol/physical check, able to lift 40+ lbs. Interested applicants may apply online at www.lutherhome.org or at Luther Home of Mercy, 5810 N. Main St., Williston, OH 43468 or fax resume to 419-972-4347.
MAINTENANCE AIDE/HANDYMAN - FULL & PART TIME POSITIONS
Maintenance Aide/Handyman Person
Full Time/Part Time
Luther Home of Mercy in Williston Ohio is currently searching for part time and full time Maintenance Aide with a starting pay of $12.00/hr. This provides assistance basic to preventive & operational physical support. Must have the following qualifications: knowledge of potential hazardous tools, equipment, materials & substances. Mechanical system knowledge, drywall, masonry repair, painting and plaster, etc. Must be able to lift 50+ lbs., pass a background check, physical and drug test and have a valid driver's licenses.
Apply by: Send resume and cover letter with wage requirement to Luther Home of Mercy/Director of Human Resources P.O. Box 187, Williston, Ohio 43468; Fax 419-972-4347 or apply on line www.lutherhome.org. EOE
POSTED 06/23/20
CAMPUS - DRIVER
CAMPUS DRIVER
Luther Home of Mercy, a residential facility for adults with developmental disabilities, located in Williston, is searching for part time drivers to transport our residents to their appointments and community events.
This position may include split shifts (morning & late afternoon). salary $12.00/hr. with a $0.40 increase after 90 days.
Minimum Qualifications include: 18 years or older, H.S. Diploma or GED, valid driver's licenses with less then four (4) point on record, and be able to pass a background check and drug test and a D.O.T physical. LHM will require CPR certified within 30 days of hire, DD experience preferred but not required.
Apply at 5810 N. Main St. Williston OH 43468, fax: 419-972-4347 or visit our website to complete an application on-line www.lutherhome.org.
RN TRAINER
RN – Instructor
Luther Home of Mercy is currently seeking an RN Instructor, either part or full time. This position will be responsible for providing monthly delegated nursing training classes for direct support professionals in the areas of medication administration, G- tube, along with other health related tasks as required by the State of Ohio. Applicants must have the ability to teach classes in small group settings and to organize, input and track data in an electronic format. The position will also require some travel between local housing sites in order to perform medication record reviews and observe med passes.
Applicants must be a Registered Nurse in the State of Ohio, have a minimum of 18 months of full time experience as an RN (or equivalent part time experience) and have experience working with individuals with intellectual and developmental disabilities. Must have a valid driver's licenses and reliable transportation to travel between sites. Starting pay $31.00/hr.