Jump-start your career or a new career by serving/helping others!
We are accepting applications for both part-time & full-time positions for all three shifts. The following positions are currently open in our community-based ministries located in Lucas, Ottawa, Wood and Sandusky counties.
Check back regularly to view the most up to date list of employment opportunities. To apply for an open position, please complete our on-line application HERE.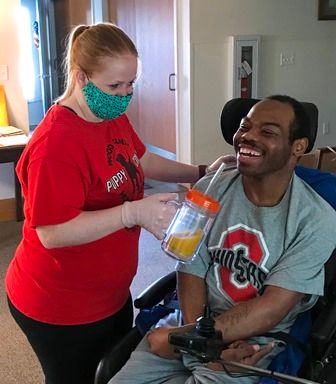 DIRECT SUPPORT PROFESSIONALS
Direct Support Professional
LHM has individual homes throughout Lucas, Wood, Ottawa and Sandusky Counties'. At this time we are accepting application for 2nd & 3rd shifts plus weekend only shifts to assist adults with Intellectual and/or Developmental Disabilities. Starting pay of $16.50/hr. (add'l $2.00/hr. for week-end shifts). Applicants must a valid driver's license (max 4pts) with reliable transportation for transporting and auto insurance. Experience in home care preferred but not mandatory.
Also must obtain a CPR/FA (immediately) and Med Administration (within 30 days of hire).
All employees are eligible for benefits as follows: All breaks & lunchtime paid PTO, holiday pay, 403B, health, dental, vision, etc. All applicants must have a HS Diploma or GED and be able to pass a BCI check, drug and alcohol/physical check, and lifting 40+ lbs.
Interested applicants may apply online at http://lutherhome.org/careers/employment_application.html or at Luther Home of Mercy, 5810 N. Main St., Williston, OH 43468.
EOE, interested applicants please provide your personal email address and phone number.
SUPPORTED LIVING PROVIDERS - WEEK-ENDS ONLY
Supported Living Provider
Luther Home of Mercy, a facility located in Williston, Ohio has homes throughout Lucas, Wood (Northwood, Ottawa (Port Clinton, Oak Harbor) and Sandusky counties (Fremont). LHM is accepting applications for weekend only for all shifts to assist adults with developmental disabilities starting at $16.5/hr. additional $2.00/hr. for week-end shifts(3rd shift sleep rate at $13.00/hr). Applicants must meet the following qualifications: HS Diploma or GED, valid driver's licenses (max 4 pts) with reliable transportation for transporting, and be able to pass a drug test/physical and BCI check.
OPEN INTERVIEWS
ARE YOU READY TO START A NEW CAREER
INTERVIEWS WILL BE CONDUCTED SO PLEASE COME PREPARED AND BRING THE FOLLOWING WITH YOU:
• Information to Complete an Application
• A Copy of your High School Diploma or GED
• Your License or State I.D.
• Social Security Card
WHEN: Monday - Thursday (what day is best for you!)
TIME: 10:00am – 2:00pm
PLACE: Luther Home of Mercy/Administration Bldg.
5810 N. Main St.
Williston, Ohio 43468
Supported Living Provider/Direct Support Professional
Working in a residential home environment, LHM has openings for 2nd & 3rd shifts and weekend hours to assist adults with developmental disability with a starting pay of $16.5/hr. Experience with home care, a valid driver's licenses with reliable transportation are needed skills. Within 30 days of hire, you must be able to obtain CPR/FA and Med Administration.
For more information, call 419-836-7741 and speak to a Human Resources Representative.
MISSION ADVANCEMENT
Function: To facilitate communication and activities with constituents to benefit the LHM ministry
Responsibilities:
1. Collaborate with both campus and outreach departments to identify and support volunteer needs
2. Recruit, train and supervise volunteers
3. Communicate effectively with LHM volunteers and constituents including oral, written and electronic communications
4. Coordinate resident central events including Fall Fest
5. Work as part of a team in pursuit of LHM fundraising goals
6. Serve effectively as liaison with LHM constituents
7. Provide assistance with switchboard operations as needed
8. Produce basic print and digital materials such as flyers and social media posts
9. Keep records/documentation as necessary
10. Perform other duties as requested by supervisor
Ability:
1. Ability to relate comfortably with a wide variety of people including residents/clients, staff, families and volunteers
2. Demonstrated ability to work successfully both independently and as part of a team
3. Demonstrated ability to plan, organize and implement a variety of activities and group projects within established timelines
4. Ability to give oral presentations
5. Ability to produce basic print and digital materials such as flyers and social media posts or ability to learn
6. Ability to work a flexible schedule
7. Ability to drive to off-campus meetings and events and reliable vehicle to do so
Qualifications:
1. Associate's Degree in Public Relations and/or work experience in field.
2. Sensitivity to the unique needs of residents/clients and those who interact with LHM and the ability to relate this to the public
3. Working knowledge of computers, general business, design and creative writing skills
4. Good physical and mental health. Position requires significant level of physical activity; leading, supporting, assisting programs responsive to the needs of individuals living with intellectual and developmental disabilities.
IF INTERESTED IN THIS POSITION FORWARD A LETTER OF INTEREST TO HUMAN RESOURCES BY OCTOBER 20, 2023
POSTED 10/13/23
TEAM LEADER - SYLVANIA OHIO AREA
Full Time – Supported Living Team Leader - Sylvania Ohio (Brint) home.
ALL APPLICATIONS MUST BE SUBMITTED BY November 4, 2023 at 3:00 pm
________________________________________
Reports To: Coordinator of Supported Living
Summary: The Supported Living Team Leader supervises and coordinates the activities of Supported Living Providers in order to insure the health and safety of clients and the proper delivery of services.
Salary: $20.25/hr
Responsibilities:
The following requirements are representative of the knowledge, skill and ability needed for successful job performance:
1. Provide a combination of direct care to clients and supervision to staff.
2. Provide on-call support as necessary.
3. Carry out supervisory responsibilities in accordance with LHM policy and applicable laws.
4. Plan, assign and direct work including training and performance appraisals, reward and disciplinary processes, addressing complaints and problem solving.
5. Schedule adequate staffing levels as dictated by ISP requirements and client need.
6. Serve as an advocate for clients.
7. Facilitate staff meetings.
8. Ensure accuracy and timeliness of required documentation.
9. Participate in the ISP and survey processes.
10. Facilitate formulation of client budgets and monitor implementation.
11. Insure appropriate nutrition and health care services to clients.
12. Monitor housekeeping, home maintenance and yard upkeep.
13. Provide consistent implementation of ISP plan goals to promote maximum independence.
14. Assume other related duties as assigned by supervisor and/or administration.
15. MUST work as a SLP 16 – 20 hours weekly.
Ability to:
1. Ability to work a flexible schedule.
2. Ability to read, analyze and interpret general business communications.
3. Ability to write reports and business correspondence.
4. Ability to solve practical problems and deal with a variety of variables in situations where only limited information exists.
5. Ability to interpret a variety of instructions furnished in written, oral or schedule form.
Qualifications:
1. Bachelor's degree from a four-year college or university; or three years related experience and /or training; or equivalent combination of education and experience; plus supervisory experience.
2. General mathematical skills such as the ability to budget, calculate figures and amounts.
3. Recognize those we serve present an increased risk or likelihood of crisis situations and be prepared to deal with such situations appropriately.
4. Must be at least 21 years of age.
5. Must have a valid driver's license, vehicle capable of safely transporting clients, and provide proof of vehicle insurance (to required limits). Max of 4 points on licenses.
6. Must have current CPR/First Aid certification or ability to acquire and maintain certification.
7. Must have Medication Administration Nursing Certificate.
POSTED 11/01/23