Jump-start your career or a new career by serving/helping others!
We are accepting applications for both part-time & full-time positions for all three shifts. The following positions are currently open in our community-based ministries located in Lucas, Ottawa, Wood and Sandusky counties.
Check back regularly to view the most up to date list of employment opportunities. To apply for an open position, please complete our on-line application HERE.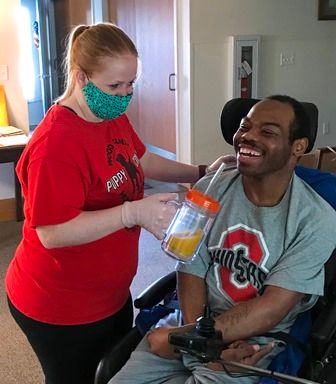 DIRECT SUPPORT PROFESSIONALS
Direct Support Professional
LHM has individual homes throughout Lucas, Wood, Ottawa and Sandusky Counties'. At this time we are accepting application for 2nd & 3rd shifts plus weekend only shifts to assist adults with Intellectual and/or Developmental Disabilities. Starting pay of $13.50/hr. (add'l $2.00/hr for week-end shifts). Applicants must a valid driver's license (max 4pts) with reliable transportation for transporting and auto insurance. Experience in home care preferred but not mandatory.
Also must obtain a CPR/FA (immediately) and Med Administration (within 30 days of hire).
All employees are eligible for benefits as follows: All breaks & lunchtime paid PTO, holiday pay, 403B, health, dental, vision, etc.All applicants must have a HS Diploma or GED and be able to pass a BCI check, drug and alcohol/physical check, and lifting 40+ lbs.
Interested applicants may apply online at http://lutherhome.org/careers/employment_application.html or at Luther Home of Mercy, 5810 N. Main St., Williston, OH 43468.
EOE, interested applicants please provide your personal email address and phone number.
SUPPORTED LIVING PROVIDERS - WEEK-ENDS ONLY
Supported Living Provider
Luther Home of Mercy, a facility located in Williston, Ohio has homes throughout Lucas, Wood (Northwood, Ottawa (Port Clinton, Oak Harbor) and Sandusky counties (Fremont). LHM is accepting applications for weekend only for all shifts to assist adults with developmental disabilities starting at $13.50/hr. additional $2.00/hr. for week-end shifts(3rd shift sleep rate at $10.50/hr). Applicants must meet the following qualifications: HS Diploma or GED, valid driver's licenses (max 4 pts) with reliable transportation for transporting, and be able to pass a drug test/physical and BCI check.
HAB SPECIALIST -
The following openings are available in the Outreach – Hab Centers:
(3) Part Time Hab Specialist
Part time
1st shift
30 - 35 hours weekly
No week-ends/No holidays
FUNCTION:
As part of a day program, the Habilitation Specialist will be responsible for engaging clients in a therapeutic environment which meets the program requirements and philosophy of the Luther Home of Mercy. The Habilitation Specialist may also choose to work additional hours as a Supported Living Provider, as the need arises.
Starting Pay $13.50/hr.
Employees if you are interested in this position complete a NOTE OF INTEREST FORM and forward it to Human Resources
OUTREACH/HAB - DRIVER
OUTREACH/HAB SITE DRIVER
Luther Home of Mercy, a residential facility for adults with developmental disabilities, located in Williston, is searching for part time drivers to transport our residents to their appointments and community events.
This position may include split shifts (morning & late afternoon). salary $12.00/hr. with a $0.40 increase after 90 days.
Minimum Qualifications include: 18 years or older, H.S. Diploma or GED, valid driver's licenses with less then four (4) point on record, and be able to pass a background check and drug test and a D.O.T physical. LHM will require CPR certified within 30 days of hire, DD experience preferred but not required.
Apply at 5810 N. Main St. Williston OH 43468, fax: 419-972-4347 or visit our website to complete an application on-line www.lutherhome.org.
POSTED 06/21/21