SOLD OUT! WE CAN'T WAIT TO SEE YOU TONIGHT!
MAY 6, 2022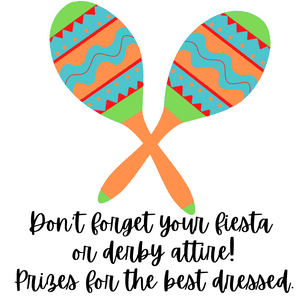 Please join us Friday, May 6, 2022, at 6:00 p.m. at The Pinnacle in Maumee, Ohio (1772 Indian Wood Circle) for Cinco de Derby Presented by GenoaBank.  Held the day after Cinco de Mayo and the day before the Kentucky Derby, the celebration includes hearty grazing stations, desserts, beverages and amazing live and silent auctions. In addition to our regular line-up, we are excited to add live music from Acoustic Distant Cousinz and more!
6:00 p.m.     CONNECT         Enjoy a beverage from the cash bar and hearty grazing and dessert stations. 
7:00 p.m.     WELCOME        Welcome, Silent Auction & Raffles
7:45 p.m.     SHARE               Live Auction featuring Auctioneer, Maria Rodriguez
8:30 p.m.     CELEBRATE       Dance the night away to your favorite tunes by Acoustic Distant Cousinz
All funds raised will be used to provide direct care and support for people with intellectual and developmental disabilities. With more than 24 locations throughout Lucas, Wood, Sandusky, and Ottawa Counties, we are dedicated to offering programs that make hopes and dreams come true! Currently, our programs include: Round the Clock Care on our Williston Campus, Affordable Home and Apartment Housing, Supported Living Services, Day Programs, Employment Services and Recreational Activities.